We were able to participate in an interesting conversation about trade trends and Lori Ann Larocco's new book Containers Don't Lie.
I'll point out some of the top trends in global trade (though it was all worth a listen).
Trade Volumes Down, Unpredictable Outcome in Shipping Prices

Ocean freight volumes really is a trade barometer - a reflection of the swings of supply and demand in global trade as a result of covid-19. In this graph below you see something unexpected though. Given the dropping trade volumes, you'd expect for shipping prices to go down but in fact prices spiked. I tweeted today about this. Generally surging rates indicate high demand. There's no clear answer today (but outside of this webinar some have speculated about coordinated pricing).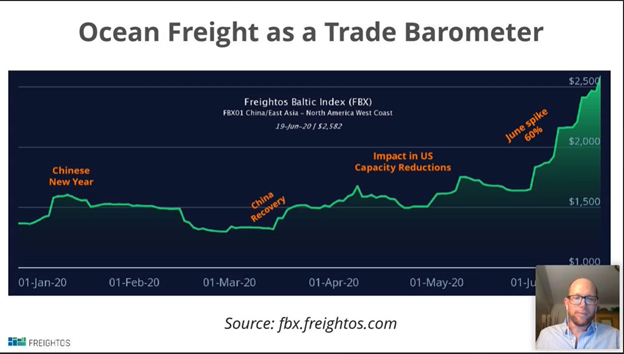 Hopefully some of this data might be a sign of recovery – but Jonah Levine thinks what I do, that it's a sign of uncertainty.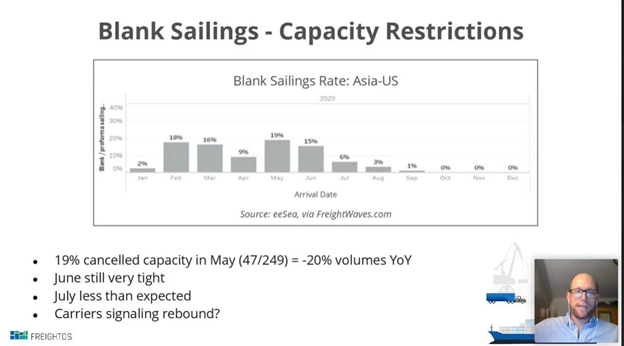 U.S. Consumers Not Spending, Orders Down, Contraction in Containers Will Persist from Covid-19
LaRocco highlighted the stress of the American consumer, which is similar to the global consumer. Even related to back to school, there's a focus on essential products, not non-essential. Global consumers are looking at buying "toilet paper, hand sanitizers" and wipes. Orders are down.
For those interested in learning more, Covid-19 trackers that have shown which retailers are going to be buying and not buying. Contraction in containers will continue for the next several months or so.
Not Just Covid-19 But Trade Wars Hitting U.S. Trade Volumes
Gene Seroka, Executive Director, Port of Los Angeles, also shared thoughts on trade volumes. We can't ignore some of the negative trends and effects of the trade wars. For example, 70% of the US economy is dependent on consumer spending, and with covid-19, that's literally been shut down. But even before covid-19, trade and the US economy had already been hit. In the US, trade wars had already caused:
14 consecutive months of decreased exports

Increased imports to US

Volume at Port of LA down 16% as a result of trade war
Seroka says what I personally believe (not a reflection of TradeLanes opinion): the tariffs after the trade wars were paid by no one else than by American companies importing from China.
Seroka predicts that recovery in #globaltrade is going to be "an uphill climb" particularly since U.S. ports are so far behind on digitization and efficiency. But, the rules are what they are and we need to "reinvent ourselves". (Richard Burright who I interviewed last month says the same about his operations).
Digitization is Critical
Seroka like all participants point to digitization (of ports, exporter operations, etc.) as a critical solution to manage margins and deal with the negative trends in global trade. We're on the same page – but we go one step farther. Digitization is essential – and making trade smarter with machine learning and advanced technology is the only way to manage current trends and volatility.
LaRocco was joined by Gene Seroka, Executive Director, Port of Los Angeles; Lars Ostergaard Nielsen, Maersk Regional CEO Latin America and the Caribbean; Judah Levine, Research Lead, Freightos; Jan Hoffmann, Chief of Trade Logistics Branch, UNCTAD; and Bill Lines, Director, Navigate PR
About TradeLanes
TradeLanes is the New Way Businesses Trade with Other Businesses
TradeLanes Trade Delivery Platform is the new generation of global trade management software. TradeLanes brings global trade execution entirely online, automating and streamlining all aspects of an international sale - from issuance of sales contracts to product quality, inventory allocation, fulfillment, bookings, loading, shipment workflow and execution - and applying machine learning ensure that cargo is delivered on-time and at-margin.